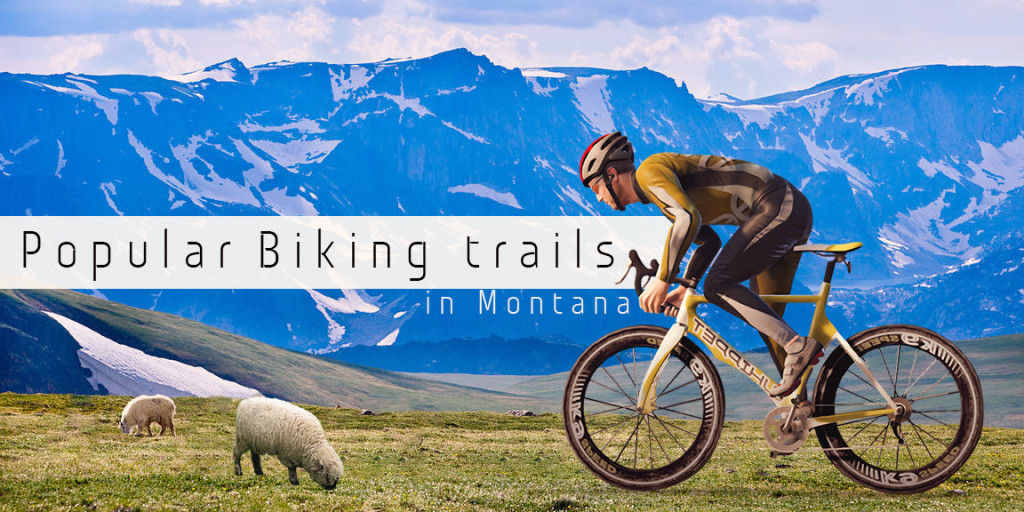 Montana is known around the world for its beautiful landscapes. Due to ample of natural features in Montana, visitors flock in to explore Montana attractions. Montana is also home to world's first national park i.e. Yellowstone National Park. From camping to hiking, horse-back riding to whitewater rafting, Montana provides unlimited opportunities for these activities. Because of these activities, Montana is an ideal spot for kids to develop a passion for the outdoors which also includes the famous biking trails.
There are many activities that you can do outdoors. One of which is going for a cycling adventure. Montana offers everything from cross country tracks to challenging downhill tracks. Depending upon your choice, you can plan a day trip or half-day trips for bike trails. These trails can help you create your own cycling adventure and are suitable for almost all levels of bikers. As there are different types of routes graded by difficulty and length, you can choose which is suitable for the whole family.
Popular biking trails in Montana
There are many trails for this sport in Montana and you have the chance to choose the one, which can be suitable for the whole family, or for you, who wants to push through your limits.
Line Creek Plateau
Line Creek Plateau is a highly regarded biking trail in Montana that stretches for about 16 miles, and is categorized as an advanced biking trail in Montana. The views of the Line Creek Plateau biking trails are incredible in every direction. The difficulty of the trail is increased by the inconsistent weather which moves in fast in the summer, and lightning is a common sight. Remember to have a look at the forecast, always watch out for the thunder clouds, and be prepared to beeline to safety.
Two Moon Park at Billings
The Two Moon Park at Billings is a popular destination for families who would like to bring their bikes and enjoy the day. The trail is just easy, so it can accommodate even your small kids. There are some sites where you can take a break with your family and have a fun picnic.
Zimmerman trail, Billings
The Zimmerman trail in the outskirt of the city of Billings is a great playground for mountain bikes. Both traditional singletrack and slickrock trails are available throughout the trail. There are stunt opportunities and some impressive exposure over the cliffs. The parts of the Zimmerman trail that parallels closest to the highway is mostly smooth, while the trail that runs lower along the rocks is more advanced and full of thrilling adventure. There are countless lines between the two and alternate braids that seek different challenges, keeping the ride fresh.
Alkali Creek Trail
Another cycling route in Montana is the Alkali Creek Trail. It is just a short ride, but simply fun because there are loops that are safe and enjoyable to take. You can definitely do this with your family or friends, if you want to explore this part of the state.
Clark Fork River Trail
The Clark Fork River Trail will truly amaze you, because you will be having a close encounter with nature. It is one of the popular trails in the state. You can relax at the hot spring, at the end of your ride. When doing such activity, it would be best to be safe by bringing your self defense tazer.
Billings Rimrock Trail
Billings Rimrock Trail gives a lot of options for you to try, as it varies from easy to moderate to difficult levels. Before taking this trail, you must prepare for all situations- both basic and troublesome.
Great Divide Mountain Bike Route
The Great Divide Mountain Bike Route at the Red Rock Lakes National Wildlife Refuge is another route for this activity. Even in different weather conditions, the road is still good and safe for use. You can also stop by at the refuge, and have a glimpse of what they can present to you, in addition to the wildlife adventure.
Elkhorn Mine
The Elkhorn Mine is also favorable for a cycling trip. It is a 14 mile track which you can take for as frequent as you want. The intriguing scenery of the mine gives a different twist to what you are doing. In order to be safe, especially when you are doing it alone, you must have with you a stun gun or a pepper spray.
Only the trail section from Cracker Saddle to Marble Pass (14 miles) is open to bicycles.
Hornet Peak Loop
The Hornet Peak Loop is recommended for those who are already at the expert level, when it comes to this recreational outdoor activity. There are sustained climbs that would be very hard and unsafe for beginners, and challenging for the experienced ones. There is a nearby campground if you wish to camp for the night.
Reid Divide
Another loop for professionals is the Reid Divide. It runs about 22 miles. Your ride will end at the deepest lake of the state which is the Tally Lake. You can have a break at the area, or even spend your time swimming.
Accommodations in Billings, Montana
If you are looking for accommodation or just a place to relax after your thrilling biking expeditions Billings, Montana; Western Inn motel offers convenient accommodation service at downtown Billings, Montana. Cycle your way through different wonderful biking trails in Montana, and then stay with us to relax after a day well spent.
Western Inn Billings, Montana is centrally located, and the perfect choice for business travelers and families visiting the Montana area. We feature spacious, Wi-Fi enabled and pet-friendly rooms, free airport shuttles, and all the amenities that will make your stay both productive and relaxing. Click here for reservations.