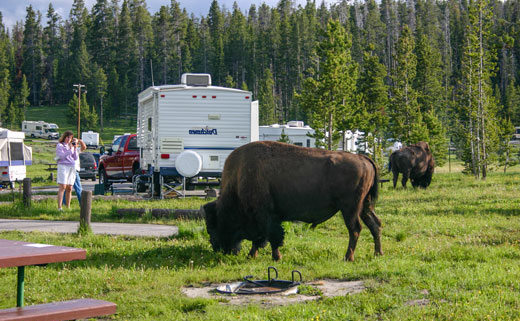 Image source: US National Park Service
Yellowstone National Park is the world's first national park, established on March 1, 1872. It is a supreme location of nature that must be enlisted in the bucket list of every traveler. Yellowstone National Park is located in the heart of the Rocky Mountains. The National park is spread mainly across the northwestern Wyoming and covers certain areas of southwestern Montana and northeastern Idaho. The park is popular for Yellowstone camping, hiking, fly-fishing, natural scenery and sightseeing.
The National Park is listed in UNESCO's World Heritage Site. One of its most spectacular and unique attractions is the iconic image of the Old Faithful geyser, which is recognized throughout the world. Among the attractions are wildlife, including bison, grizzlies, and the gray wolf, the world's largest petrified forest, and Yellowstone's greatest claim to fame, it's geological wonders – one of the world's largest calderas (a volcanic structure) with over 10,000 thermal features (colorful hot springs and bubbling mud pots) and more than 300 geysers. With such a unique array of nature's wonders, located in one National Park, it's not at all surprising that Yellowstone attracts millions of visitors each year.
Yellowstone Weather
The busiest season in the Yellowstone National Park is in the month of July. The month of July is the time for wildlife to spring and blossom in the area, and people flock to the Yellowstone National park to see nature perform its art.
The Yellowstone National Park has cool weather condition. The temperature typically varies from 0°F to 73°F and is rarely below -17°F or above 79°F.
Image source: US National Park Service
Summer: In the summer, during the daytime the temperature is often around 70°F, and occasionally, at around 80°F in lower elevations. The nights, however, are usually cooler, and the temperatures may turn freezing at higher altitudes. Yellowstone National Park is very susceptible to afternoon thunderstorms.
Winter: In the winter, the temperature may range from 0°F to 70°F during the day. The nights are very cold with sub-zero temperatures. In winter season, the park experiences snowfall that averages around 150 inches in a year.
Spring: In spring, the temperature ranges from 30°F to 60°F. Snow is a very common sight in the spring, with an average of 12 inches in the Yellowstone National park area.
In general, the weather in Yellowstone National park area is very unpredictable and visitors need to be wary of the weather forecast all the time. The park area is cold throughout the year and is a great place to release the heat and tensions of life
Yellowstone Camping
A popular way to visit the park is driving the grand loop road, along which, visitors will find all of the park's main attractions, as well as roadside picnic and rest areas. The Park facilitates different activities like hiking, white water rafting, fly-fishing, snowmobiling and many more, during the summer as well as the winter, resulting in great flow of visitors around the year. For those who prefer a longer stay and enjoy Yellowstone camping, Yellowstone offers 12 campgrounds, many of which are individually suited for a particular kind of outdoor activity. Yellowstone camping is a popular activity here, with the area featuring great campsites and locations for RV camping
Bay Bridge Campground
Image source: US National Park Service
Bay Bridge Campground is popular for boating and fishing. The nature enthusiasts often choose to camp at the Bay Bridge Campground because of its proximity to Bay Bridge Marina of the famous Yellowstone Lake. This particular campground has 400 individual and 4 group sites, and 16 public restrooms, but no paid showers. So, bringing a portable camping shower is a good idea.
Canyon Campground
For those campers who like to be in the middle of things and enjoy a wooded setting, Canyon Campground is an ideal choice. Centrally located and within a mile of the Grand Canyon of the Yellowstone, it offers 270 individual campsites (no group sites) with all the usual amenities, including paid showers and laundry facilities, located in the Canyon Campground Camper Services.
Madison Campground
For geyser and fishing enthusiasts alike, Madison Campground is a no-brainer: it's located within an easy distance from the Madison River, Old Faithful and the Upper, Midway, and Lower Geyser Basins. Offering 270 individual and 3 group sites, Madison Campground, however, has no showers and the nearest one is located 14 miles away, so again, bringing a portable camping shower will solve the problem.
With many campgrounds and diverse natural features, Yellowstone National Park is also a no-brainer for nature lovers, who enjoy pitching a tent, surrounded by 2.2 million acres of wonders not seen anywhere else in the world.
Safety Tips for Camping in Yellowstone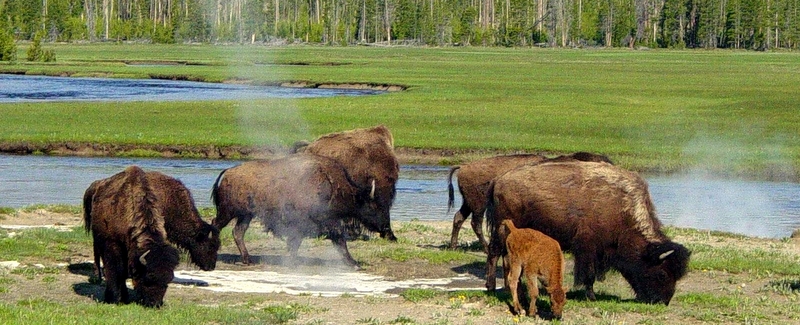 Image source: US National Park Service
Yellowstone National Park is covered with snow in Winter season, and Summer is the ideal season for Yellowstone Camping. The summer, however, means an addition of various dangers that mainly include Bears and other predators. Here are some Yellowstone camping safety tips to keep you safe in the Yellowstone National Park area:
Even in the summer, Yellowstone is a very cold place. It is an absolute necessity to pack extra blankets, woolen socks & gloves.
Be afraid of the Bears and other predators. Never set up camp in an area that has obvious evidence of bear activity, such as digging, tracks, carcass and bear waste.
Remove all the clothing you wore during the campfire cookout, and change into fresh clean clothes before retiring to the tent for the night.
Remember to treat water. The natural water may be polluted by animals or by human wastes. Intestinal infections from drinking untreated water are increasingly common so make sure to treat the water for drinking.
Do not forget the bear spray.
Here are some more tips to avoid bear while camping in Yellowstone National Park:
It is vital that you keep your campsite clean. No matter how tired you are, make sure that you clean up your campsite by washing all dishes away from your tent (at least 100 feet away), picking up any food, empty cans, boxes and other trash, and storing it all up high on a tree. Also store the food in the same way. Don't give bears a reason to come your way. Bears have an extraordinary ability to smell, and can pick up a scent from more than 4 miles away. Never bring food into your tent. If you have kids with you, clean their hands and faces, and change their clothing before they retire to the tent. Make sure that there are no food products- candies, toothpaste or other items hidden away in their pockets.
Make sure you notify the local information center or Ranger Station of your whereabouts and when you plan to leave. Notify other family members about where you are going, along with your intended time frame to camp, and when you plan on leaving. It is always good to visit the area where you intend to camp ahead of time, and then provide your family with the GPS coordinates of your exact location, if you are camping in the back country and not at a camp site. Otherwise, if you are camping at a Forest or Park Service designated camp site, give your friends and family members your campsite number.
Finally, setup your camp site, play with your family remembering that you are not in the city, always look over your shoulder and enjoy the beauty of the wild country. If you have trouble sleeping at night, that's good. Bears and many other predators are most active at dusk, and night time. It might even be necessary to keep a watch for safety in some areas.
The wilderness of Yellowstone National Park is dangerous, and we are merely guests in the nature's territory. Follow some basic guidelines. Make them a part of your routine when camping in Bear Country of the Yellowstone National Park, so that you, your family, and the bears can have a good time.
Also, remember to pay respect to the nature and ensure to follow methods to reduce pollution in the Yellowstone National Park. Carry out all the non disposable garbage and do not litter. Do not bath or wash your clothes and dishes in lakes, ponds, rivers, or streams to reduce pollution of water. Bring a trowel and bury human waste six to eight inches (15-20 cm) below the ground, and at least 200 feet (60 m) away from water sources or campsites. The smell of human waste may also attract predators, so it is best to dispose them properly. For further rules and instructions visit the Yellowstone National Park site.
Getting into your Yellowstone vacation can be fun. There is no train service to Yellowstone, and the only way to easily get around within the park is by car. Only the Northeast entry point from Silver and Cooke City, MT is open year round for wheeled vehicles. The closest airline service to the entry point is Billings, MT.
A popular option is to fly in to Billings, Montana; accommodate in Billings, and rent and drive a vehicle to enter into the Yellowstone National Park, through North east entry point in Silver and Cooke City, MT.
Accommodation for the trip to Yellowstone
Western Inn Motel, Billings MT is a 2 star motel providing service for accommodation in downtown Billings, MT; your gateway to the Yellowstone National Park and Yellowstone Camping. Our services include pet-friendly rooms, free airport shuttle and many more. Western Inn Motel provides a homely environment and classy rooms, perfect for resting and accommodation after your trip to the Yellowstone National Park.
After spending many nights in a tent, it will definitely be nice to come into a clean, quiet place like Western Inn motel to take a hot shower and have a comfy bed to sleep in. Western Inn Motel guarantees a good service for accommodation in Billings, MT. Click here for reservations.